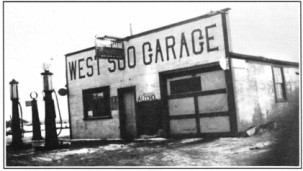 Where can you find a repair shop that's remarkable reputation has continued for more than 85 years? Well, Ron's Garage located on the corner of Kiwanis and Madison may be one of the oldest privately owned repair shops in town, but more importantly, its reputation of honest work has been the cornerstone of the business throughout the decades.

It is this reputation that has kept the shop alive all these years and has sustained through the changing of hands. Alex and John Feay originally started the shop in 1920. The shop was taken over by Don Steenholdt in 1971, who later passed the tradition and passion on to his son, Ron. Ron Steenholdt is the current owner and has been since 1990.

In today's fast paced world, Ron's Garage truly strives to be a place that caters to the needs of each customer. When leaving this friendly and upbeat atmosphere, each customer can drive away safely knowing that they received quality work, with dependable products, at a fair price. Ron's Garage also strives to stay on the cutting edge of technology with today's advanced computer systems in automobiles, Ron's Garage has taken extra care to buy up-to-date computer software and scanners to allow them to better service these new and complex vehicles.

The technicians themselves have also taken care to continually attend seminars and workshops that better allow them to understand both this innovative equipment and up-to-the-minute complications of these vehicles. Ron's Garage is an auto repair shop where you can find honest as well as quality work, knowledgeable technicians, and a friendly sociable atmosphere.